There are no guided walks or trail cleaning events until September
---
Today's Olle Image
"Upon a summer wind there's a certain melody, Takes me back to the place that I know…" along Route 8 at Jungmun Beach. By Yonhap News on July 17.
---
Weather Summary
We have a high of 27°C cloud cover and rain showers around the island. Expect heavier rain this evening. A lovely light to gentle wind (3m/s) will blow north-west then north.
Overall it should be another warm and humid day on the trail with rain showers around. Prepare drinks and a very light rain coat.
---
Sunrise: 05:39 // Sunset is at 19:42
The PM 2.5 micro fine dust level is GOOD to NORMAL (10:00 KST)
The PM 10 fine dust level is GOOD to NORMAL (10:00 KST)
The UV level is HIGH-NORMAL (morning) / NORMAL (afternoon)
---
Please refer to the Jeju Environment Protection Research Center (http://air.jeju.go.kr/index.htm)
Air Korea (https://bit.ly/2taWZp5) has excellent maps showing the real-time influence of fine dust.
Ultraviolet index for South Korea and Jeju Island can be checked here.
---
Jeju Island News
---
Exhibition – Footsteps of the legend of Hallasan 'Red Cross Mountain Safety Zone'
Jeju Special Self-Governing Province World Heritage Headquarters (Director Go Sun-hyang) announced that it will hold 'Since 1961 Legend of Hallasan: Red Cross Mountain Safety Guard 60 Years' at the Hallasan National Park Mountain Museum until September 30th. This exhibition was prepared to commemorate the 50th anniversary of Hallasan National Park designation this year.
The Jeju Red Cross Asset Safety Team formed a consensus saying, "Let's tell mountaineers who come to Halla Mountain about detailed knowledge and information about the mountain and create a rescue team in case of distress." 10 people, including the first chief Kim Jong-cheol, gathered on May 14, 1961.
Hallasan has a wide range of climate and terrain in comparison to inland mountains such as heavy climate change due to the effects of the ocean and high altitude, plain and wide and lush forests, hidden valleys, and heavy snowfall and strong winds and fog in winter.
The Jeju Red Cross Asset Safety Team has continued to provide rescue workers to solve these problems, and has created conditions for general climbers to climb safely through the installation of climbing guide boards.
In this exhibition, you can see items related to the mountain safety zone, such as pictures of 60 years of history of the Red Cross mountain safety zone that has a history of Halla Mountain and a hiking guide and mountaineering map created in 1962.
The exhibition can be viewed between 10 am and noon, and between 1 pm and 5 pm, and the number of visitors is limited to 10 or less per turn.
An official from Hallasan National Park said, "I hope that the value of Hallasan will be more widely known through the footsteps of the mountain safety zone in this exhibition."
Meanwhile, this exhibition was scheduled to be held in May, when the national park was designated, but it was held this time to prevent the spread of Corona 19, and there is no opening ceremony.
Telephone (Korean language skill needed) 064-710-7811
Source: http://www.jemin.com/news/articleView.html?idxno=665698
---
A trip to Olle and oreums in Jeju Island, wild boars suddenly appeared in front of me
Mr. A, who visited Barime Oreum in Aewol-eup, Jeju City, reported to authorities that he had witnessed and felt threatened by herds of wild boar. Mr. A said, "A group of five wild boar appeared in Barime Oreum. "I saw wild boar on the road to Barime Oreum earlier this month," he said. "It is a great threat to visitors because they don't run away even after seeing people."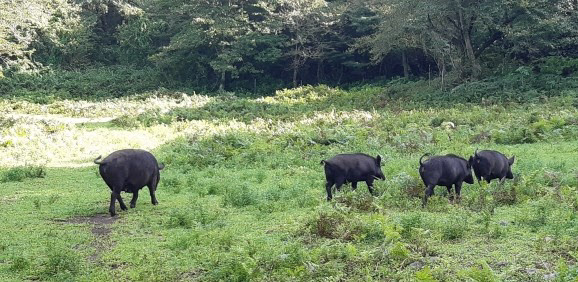 Wild boars and wild dogs appear in the fields and uphills of Jeju's Hallasan Dulle-gil, Olle-gil, and the middle mountain (200-600m above sea level), which is becoming a headache.
According to Jeju Island on the 20th, there have been complaints of wild boar appearing in areas such as Barime Oreum and Cheona Oreum, Halla Ecological Forest, Sarani Forest Forest, Gogeunsan Mountain in Seogwipo City, Eongtto Falls, Healing Forest, Sol Oreum, and Saekdal Landfill.
Moreover, recently, wild boar has appeared in Seomunpo-si, Jungmun-dong and golf courses, which threaten the safety of residents and tourists. In addition, there have been cases where wild boars dig through orchards and potato fields and damage crops.
About 500 wild boar reports are received annually. As a result, wild boar catching performance has tripled from 91 in 2018 to 248 last year. Even this year, 77 wild boars were captured by the 15th.
An official from the Seogwipo Branch of the Wildlife Management Association said, "The wild boar is usually timid and cautious, but if a person screams or moves violently, he can rush or attack to protect himself. "You should never first conceal your body with a rock or other, and do something to stimulate it."
The attack of wild dogs is also a headache.
According to Jeju Island, 693 chickens, 117 ducks, 3 black goats, 3 geese, and 1 calf were damaged in 2018. Last year, 500 chickens, 50 mallards and 5 black goats were killed by wild dogs.
On the 28th of last month, 66 chickens and 9 calves were attacked by wild dogs this year, including six wild dogs that invaded the farmhouse in Hallim-eup and biting four of them.
Wild dogs are threatening even people.
Last month, Mr. B said on the Jeju Metropolitan Government's website, "The black-haired wild dog rushed to bite while jogging at Cheomdandong-gil, Jeju-si." My heart was full." In May, a tourist C posted a message on the complaint board, saying, "I see so many large dogs without collars all over Jeju." "It's scary, so I have difficulty traveling comfortably."
Jeju wild dogs are often dogs and then abandoned. In the process of adapting to the environment, become wild, and after hunger, it is estimated to hunt cattle. In 2018, several wild dogs hunted for roe deer in the field.
An official from the Autonomous Police Agency said, "There have been complaints of a roe deer who has been attacked by a wild dog in the middle of the mountain, and there have been many complaints from victims of crop damage.
Source: http://news.chosun.com/site/data/html_dir/2020/07/20/2020072002389.html